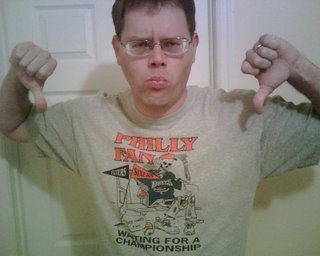 Today celebrates a quarter-century of frustration and disappointment.
For on May 31, 1983, the Philadelphia 76ers defeated the Los Angeles Lakers to win the NBA championship 4 games to none. Twenty-five years later, sports fans are still waiting for the next title.
Hard to believe that a city with 4 professional sports teams can go 25 years without a championship. That's 98 sports seasons (2 championships were lost to labor unrest) of losing. ARGGGHHH!!!!!
And what's equally as frustrating is that only 7 times since then -- and just four times over the past 20 years -- has a team made the finals of its respective league. So thanks to bad management, overall lack of talent and a few superstars who couldn't get their teams to the promised land -- the teams haven't been close to championship caliber.
At this moment, it's hard to determine which among the Phillies, Flyers, Sixers and Eagles will end the drought. Right now, you'd have to say the Phillies, because they are the only ones playing right now. And they are in first place.
I was about to turn 20 when the Sixers won that last title. Now almost ready to blow out 45 candles on my cake, that's 56 percent of my life I've spent waiting for another title.
But at least I'm lucky to have seen a few of my teams win championships. One Mercury sports colleague who is as big a fan as I is 26 years old and hasn't seen any.
I just hope the drought doesn't reach 50 years.