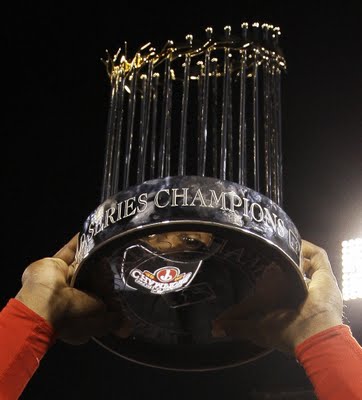 Well, here goes. I've spent the last few days wondering about my pick to win the World Series, with the hometown Phillies battling the Evil Empire, otherwise known as the New York Yankees.
To be honest, I've been surprised by the Phillies so far this postseason. Yes, I picked them to beat the Colorado Rockies in 4 games in the National League Division Series, but the series didn't play out the way I had in mind, with the Phils winning two games in Colorado in the 9th inning.
Against the Dodgers, I had the Phillies winning the NL Championship Series in 6 games, and they did it in 5. They had few problems with the Dodgers vaunted bullpen, while the Phils' pen shut the door.
So, what about the Series? One minute I think the Yankees are going to win it, the next I lean toward the Phillies.
The Phillies are underdogs in this series. Few so-called "experts" expect them to win. Heck, the defending World Champions were the third choice by bookmakers in Las Vegas to win the NL crown.
This team continues to amaze me. They don't feel the pressure. And it's not like they haven't been here before. After all, they won the thing last year.
So with a split in New York and 2 of 3 wins at Citizens Bank Park, the Phillies will repeat with a Game 6 victory at the new Yankee Stadium.
GO PHILLIES!!!!