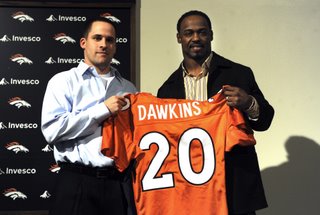 It was a sad day for Eagles fans Saturday when news broke that 13-year veteran safety Brian Dawkins had signed a 5-year contract with the Denver Broncos.
Dawkins, shown at right holding up his Broncos jersey, played more games than anyone in Eagles history and was the heart of a defense that was among the league's best for most of his tenure.
Ironically, the Broncos will be playing the Eagles this season in Philadelphia.
Don't know who is to blame here, but most fans point toward Eagles management. Right now, there is a huge void on the field, in the locker room and in the hearts of die-hard Eagles fans.