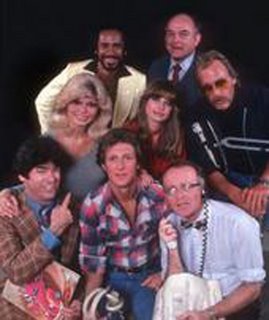 It took awhile, but WKRP is back on the air in Cincinnati -- but this time as a TV station.
According to an Associated Press story, the station, which formerly was known as WBQC-TV, changed its call letters to promote its new digital TV signal.
General Manager Elliott Block says the new call letters give the station recognition because so many people remember the television sit-com.
"WKRP in Cincinnati" revolved around the antics of employees of a fictional radio station. The classic sit-com ran on CBS from 1978-1982 and made stars of Howard Hesseman as Johnny "Dr. Johnny Fever" Caravella and Loni Anderson as secretary Jennifer Marlowe. Other cast members were Gordon Jump, Tim Reid, Gary Sandy, Jan Smithers and Frank Bonner. Richard Sanders played clueless newsman Les Nessman.
Check out the new television
station
.