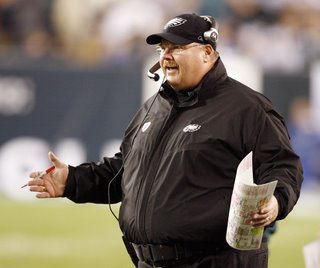 How many Eagles fans reading this are tired of Andy Reid and the way he's running the team?
I don't know who ticks me off more: Andy Reid the football coach, or Andy Reid the executive vice president of football operations.
Reid's on-field decisions are just brutal. The offense starts the game so sluggishly, as a fan you wonder if that unit has evened practiced all week. And why Reid insists on running the ball in short-yardage plays in the fourth quarter when he hasn't given the running game a chance to work for the first 3 quarters is bizarre. An interesting stat from Sunday night's loss to the Giants: the Eagles are 5 out of 14 when running the ball on third or fourth down and a yard to go, yet they are 3 of 3 when passing in the same situation.
Of course, part of the problem may lie with Andy Reid the personnel guy. The last 2 years, the Eagles have traded out of the first round of the draft (in 2007, it was to the stinkin' Cowboys!!). This year, they lucked out by having DeSean Jackson fall into their laps in the second round. But trading a fourth-round pick for rarely-used running back Lorenzo Booker hasn't worked out. And using a 2007 third-round pick on recently cut running back Tony Hunt was a mistake.
Maybe if Reid went out and brought in a real fullback, it might help the running game.
His post-game and day-after press conferences are a waste of time. Everyone knows that after a loss, Reid will take the blame and say how he has to do a better job to get his players in a better position to make plays. I'M TIRED OF IT!!!!
Should the Eagles miss the playoffs this year, it will be the third time in four years that has happened. At some point, owner Jeffrey Lurie has to seriously consider letting Reid go as the team doesn't appear headed in the right direction.
A few years ago, though the Eagles had yet to win a Super Bowl, Lurie called the Eagles "the gold standard" of the NFL. After the Phillies' World Series win, the Eagles don't even carry "the gold standard" in their own city.