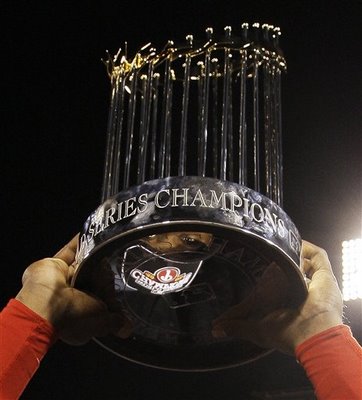 Here is MY LIST of the top 10 sports events of 2008:
1. Phillies win the World Series with a 4-3 win over the Tampa Bay Rays for their first championship in 28 years and the city's first in 25 years.
2. See No. 1
3. See No. 1 and 2
4. Phillies win the National League Championship in 5 games over the Los Angels Dodgers with a 5-1 victory.
5. Eagles rout the hated Dallas Cowboys, 44-6, on the last day of the season and, thanks to a chain of unlikely events, earn a berth in the NFC playoffs.

6. See No. 5
7. Phillies beat the Milwaukee Brewers in 4 games in the National League Division Series.
8. Phillies win National League East as the New York Mets collapse again.
9. Temple wins the Atlantic 10 men's basketball championship and a berth in the NCAA tournament with a win over Big 5 rival St. Joseph's in the conference tournament title game.
10. Penn State football goes 11-1, is co-champion of the Big 10 Conference and earns a berth in the Rose Bowl. The Nittany Lions miss an unbeaten season by one point in a 24-23 loss to Iowa on a last-second field goal.