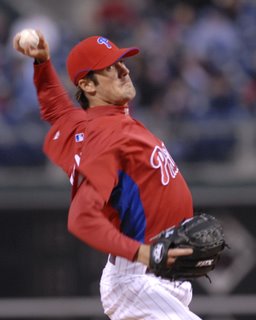 The Phillies open their 2008 season on Monday against the Washington Nationals.
While hopes are high for the 2007 National League Eastern Division champions, question marks on the pitching staff may keep them from getting to the post-season in a very competitive National League.
The offense should score a ton of runs, and the team may have to win a lot of 9-8 games because of the weak pitching staff.
Brett Myers and Cole Hamels, above in an Associated Press photo, are solid at the top of the starting rotation, but when you start the season with a 45-year-old as your No. 3 starter, that doesn't bode well for the season.
If you haven't guessed by now, the Phillies' fate will lie in their pitching. And since the New York Mets and Atlanta Braves -- their two bitter division rivals -- start the season with better pitching, I don't see how the Phillies can get back into the postseason. Though they claimed the division title last year, the Phillies didn't even win 90 games.
Some friends call me a pessimist. I think I'm more of a realist. Barring some unforseen happenings on the pitching staff, I see no more than 86 wins and a third-place finish in the division.