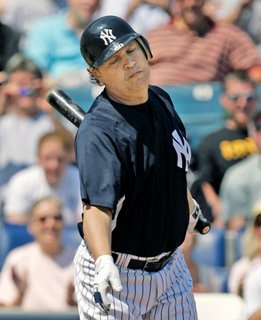 If Billy Crystal can do it, why can't I? Where's my chance for a spring training appearance with my favorite team.
In case you missed it last week,
actor/comedian Billy Crystal, on the eve of his 60th birthday, got to play with the New York Yankees in a spring training game.
Crystal has been a lifelong Yankees' fan and directed and produced "61," an HBO movie about Roger Maris, Mickey Mantle and the 1961 Yankees. So as a present for his 60th birthday, the Bronx Bombers let Crystal lead off in a game against the Pittsburgh Pirates. The comedian's dream ended there, as he struck out in his lone plate appearance. His reaction is shown above in an Associated Press photo.
So what do I have to do to get an at bat with the Phillies? Maybe I can produce and direct a movie called "1980," the story about Hall of Famers Mike Schmidt and Steve Carlton and the only Phillies team to win a World Series.
Or if I don't get an at bat, how about pitching to one or two batters. And who knows? The Phillies are always looking for pitching. On top of that I'm lefthanded, a few months younger than their current No. 3 starter, Jamie Moyer, and I throw just as hard as he does.
Maybe it won't happen for my 45th birthday, since that's in 3 months and Spring Training ends in 10 days. But my Big 5-0 isn't that far away (UGH!). If I put the bug in their ear now, maybe in 5 years the Phillies will grant me my wish.
And by then, they'll need a replacement for Ryan Howard.