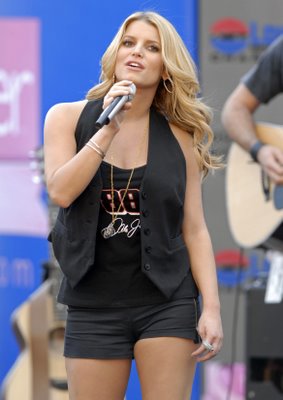 Now Jessica Simpson knows the pain her boyfriend, Dallas Cowboys quarterback Tony Romo, felt after the Eagles' 44-6 romp over the Cowboys in the NFL season finale.
According to the Associated Press, Simpson forgot lyrics, mumbled through songs and fought back tears in a performance in Grand Rapids, Mich., in which she opened for Rascal Flatts.
Here is the account:
GRAND RAPIDS, Mich. (AP) — A bizarre 38-minute set by opening act Jessica Simpson inadvertently stole the spotlight from headliner Rascal Flatts in a show at the Van Andel Arena.
The Grand Rapids Press said Simpson forgot her lyrics, struggled with her ear monitors, mumbled through songs and fought back tears during Thursday night's performance.
At one point, the 28-year-old singer-actress asked her backing band to start over on one song, and she forgot the words to another.
"Jessica had an off night," Cindi Berger, a representative for Simpson, said Friday. "She's a perfectionist, and wanted to start some of the songs over. She always wants to give her best performance to her fans."
Simpson apologized to the supportive audience of about 9,000 by mouthing the word "sorry" on two large video screens.
While introducing her last song, Simpson said she sometimes feels like quitting. She appeared to be wiping away tears after finishing the song and walking off the stage.