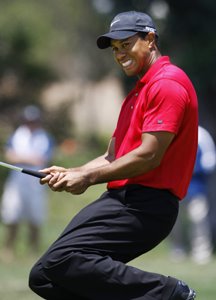 I'll be the first to admit I rooted against Tiger Woods at last weekend's U.S. Open. I want to see Tiger win as much as I like to see the Mets, Yankees, Red Sox and Cowboys win -- which is, well, never.
I think it makes better drama when Tiger loses. I wanted him to miss his birdie putt on the 72nd hole Sunday which forced Monday's extra round. And I wanted him to miss his birdie putt on the 18th hole that forced a sudden-death playoff.
But I knew that Tiger, shown in an Associated Press photo at right, wouldn't miss those putts. He never does.
Woods entered the U.S. Open two months after undergoing surgery on his left knee to clean out cartilage, a surgery that took place two days after The Masters, in which he finished second. Doctors told him not to play in the U.S. Open, but Tiger played anyway -- proceeded to play 91 holes on a bum knee and what was later revealed to be a double stress fracture in his left tibia.
While watching the tournament, it appeared the only time Tiger winced in pain was when he hit a poor shot.
Tiger won't win anymore this year. On Wednesday, he said he will have reconstructive surgery on his left knee to repair a torn anterior cruciate ligament, forcing him to miss the rest of the season.
But Tiger's last tournament of 2008 was one to remember. Unfortunately, it took away from an outstanding effort by runner-up Rocco Mediate, who would have won his first Major championship if not for Woods' heroics.
After Woods' win, you have to wonder: How good are the rest of the players if they are beaten by a guy essentially playing on one good leg?