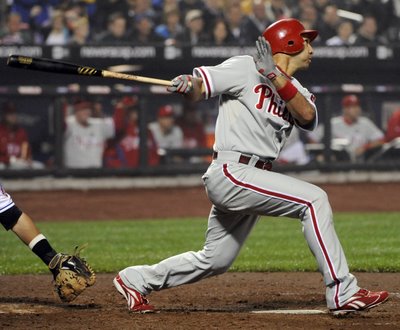 Anyone Phillies fans out there still want Pat Burrell?
Raul Ibanez continued his assault on National League pitching Thursday night with a 3-run home run in the 10th inning to give the Phillies a 6-3 win over the hated New York Mets. The victory pushed the World Champions four games ahead of the second-place Mets in the National League East.

The home run was the 21st of the season for Ibanez, shown above hitting the blast. He's also hitting .322 and leads the league in runs scored (49) and runs batted in (58). Not only has Ibanez been a more consistent offensive force than Burrell ever was, he's also a much better fielder and a better baserunner.