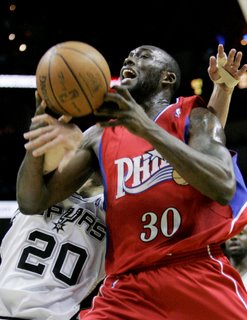 My love for basketball began as a teenager when I would watch the 76ers with Julius Erving, George McGinnis, Doug Collins, Lloyd (not yet known as World B.) Free and Darryl Dawkins. When Bobby Jones and Maurice Cheeks joined the team, they always challenged for the title, eventually winning in 1983 when Moses Malone was added to the core.
But that was a long time ago. Great players like Charles Barkley and Allen Iverson have come and gone, but the team hasn't come close to matching the standards of the late 70s and early 80s. And the last few years, they've been among the worst teams in the league.
And guess what? It doesn't bother me if I don't watch them on TV. I have better things to do now.
At least when the Sixers had All-Star players. I'd turn on the TV just to watch them play. But now, it's a bad product and I have no desire to waste my time watching them lose.
Having a starting power forward like Reggie Evans (shown above in an Associated Press photo taken by Eric Gary during a game against San Antonio), whose scoring average is just a few points higher than mine, is part of the problem. And having 5 or 6 guys who play the same position is another factor.
Firing Billy King as president and general manager in December was a move in the right direction, though it came at least a year or two too late. He made bad trades, gave out bad contracts and made bad draft picks -- a trifecta no GM should be proud of.
Of course, my dislike for King goes back nearly 20 years, when he and his Duke Blue Devils shut down Mark Macon and my Temple Owls in the NCAA East Regional final and prevented the Owls from going to the Final Four. I just can't seem to let that go.
I hope new GM Ed Stefanski, who grew up in the Philly area and played college ball at Penn and came over from the New Jersey Nets, can turn things around. When the Sixers are lousy, it makes for a long winter.