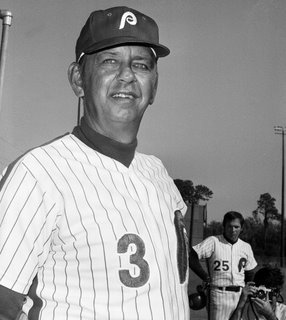 A month after the death of Hall of Fame broadcaster Harry Kalas, the Phillies family has suffered another death.
Danny Ozark, at right, who managed the squad to three straight National League Eastern Division titles in 1976-1978, died this morning at his home in Vero Beach, Fla., team officials said. He was 85.
Despite his success, Ozark never led the team into the World Series. Fans will always remember his decision in Game 3 of the 1977 playoffs against the Los Angeles Dodgers, when he kept left fielder Greg Luzinski in the game in the ninth inning despite the Phillies holding a 5-3 lead. Sure enough, Luzinski failed to catch a two-out flyball against the wall and the Dodgers went on to score 3 runs and win the game 6-5. The game is known as "Black Friday" in Phillies' lore. I know because I was at that game.
Ozark was manager of the year in 1976 after leading the Phillies to a 101-76 record. He is one of only a handful of Phillies' managers to have a winning record. Beginning in 1973, Ozark compiled a 594-510 record in seven seasons in Philadelphia. A year after his departure, the Phillies won their first World Series under manager Dallas Green.
Ozark was third-base coach for the Los Angeles Dodgers before joining the Phillies.