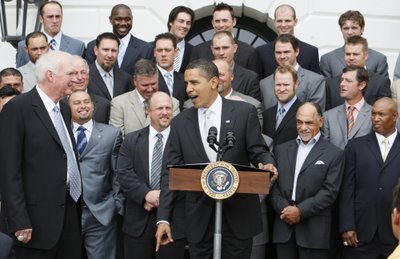 WASHINGTON (AP) — President Barack Obama has told the Philadelphia Phillies that their 2008 World Series run was similar to his winning presidential campaign — both were underdogs.

Obama welcomed the baseball team to the White House on Friday and said, "Nobody thought I would win, either."

He singled out star shortstop Jimmy Rollins for making calls on Obama's behalf during last year's campaign. Rollins presented Obama with a jersey and baseball, but the president wanted more. Obama jokingly asked for Rollins World Series' ring.

The Phillies were scheduled to meet the president on April 14. But that visit was postponed after the death of Phillies broadcaster Harry Kalas the day before.