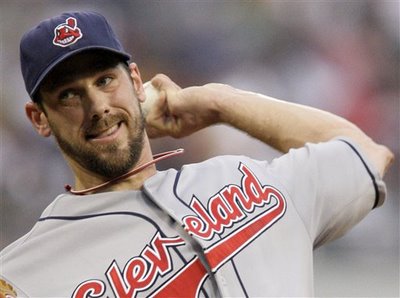 The Phillies reportedly picked up a Cy Young Award winner on Wednesday, but not the one most fans were hoping for.
Both Foxsports.com and Mlb.com were reporting that the Phillies had reached a deal with the Cleveland Indians for 2008 American League Cy Young Award winner Cliff Lee, above. The Phillies will also get right-hand hitting outfielder Ben Francisco.
The Phillies will give up three of their top Class AAA prospects -- pitcher Carlos Carrasco, infielder Jason Donald and catcher Lou Marson -- and Class A pitcher Jason Knapp.
The deal means the Phillies will have 4 left-handed hurlers -- Lee, Cole Hamels, Jamie Moyer and J.A. Happ -- in their starting rotation.
The deal means the Phillies did not have to give up either their top minor-league pitching prospect Kyle Drabek, currently pitching for the Reading Phillies, or their top minor-league player Dominic Brown, who is an outfielder with Class A Clearwater.
I was hoping the Phillies would acquire Toronto Blue Jays pitcher Roy Halladay, who would have balanced out the rotation. But Phillies GM Ruben Amaro Jr. did not want to part with Happ, Drabek and Brown.
To read more, click
here
.