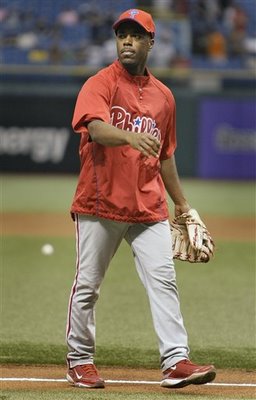 Phillies shortstop Jimmy Rollins was mired in an 0-for-19 slump last week when manager Charlie Manuel rested the 2007 NL Most Valuable Player for 4 games.
Rollins, at right, was restored to the leadoff spot for Tuesday night's game against the Atlanta Braves and picked up where he left off when he last played in Tampa on June 24. He was hitless in 5 at bats, including two strikeouts. In 2 of the plate appearances, Rollins, now hitting .207, swung at the first pitch.
Much of the struggles for the defending World Champions this season are because of the pitching staff. But Rollins' problems are high on the list.
The Phillies need a lot more from their leadoff hitter. Rollins is 30th in the league with 41 runs scored. When he scores runs, they win. But it's hard to score runs when you can't get on base. Rollins' on-base percentage of .250 is the worst in the league for any regular.
Coming off a title, I expected more from this team than they've showed the first 3 months of the season. They should be running away with the National League East. But until Rollins begins to produce offensively, the Phillies will continue to struggle.