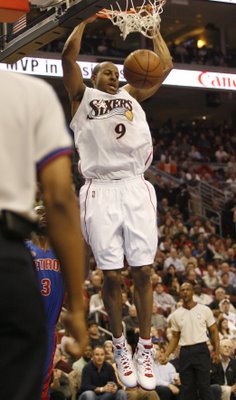 One of the first blogs I did back in January was on the Philadelphia 76ers. I lamented how awful they had become, and didn't care if I missed a game on TV.
Well, someone within the organization must have read it. Since that time, the Sixers have been one of the hottest teams in the league.
On Feb. 4, the team was 18-30 with little hope of making the post-season. Over the past 9 weeks, the Sixers have posted a 22-8 record and surged into the playoffs. With 4 games left, they currently hold the sixth seed in the Eastern Conference. If the season ended today, they would play the Orlando Magic in the first round of the playoffs.
Once again, the team is exciting to watch. The team has played a more up-tempo style since the beginning of the year, and the younger players seem to improve each game. Point guard Andre Miller and small forward Andre Iguodala, shown above in an Associated Press photo dunking in a recent win over the Detroit Pistons, have provided the leadership the younger players needed.
So maybe the future for this team isn't as bad as it looked 2 months ago. No, they won't win the NBA championship, and they likely won't win their playoff series.
But if they can just keep the current roster intact and add an inside offensive presence, the Sixers will again be among the elite in the NBA's Eastern Conference.