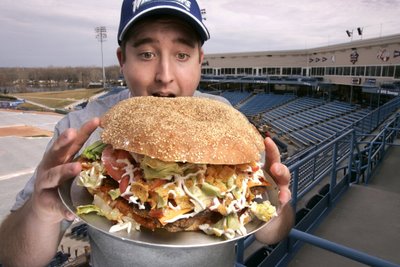 You better be hungry and not watching your calories if you go to a
West Michigan Whitecaps game this summer.
Why? The Class A affiliate of the Detroit Tigers in Grand Rapids, Mich., is adding a 4,800-calorie burger to its menu.
The 4-pound, $20 burger -- shown in an Associated Press photo, above -- features five beef patties, five slices of cheese, nearly a cup of chili and liberal doses of salsa and corn chips, all on an 8-inch sesame-seed bun.
The Grand Rapids Press reports that anyone who eats the entire 4,800-calorie behemoth in one sitting will receive a special T-shirt. Saner fans can divide it up with a pizza cutter and share.