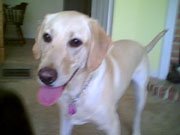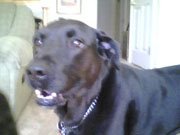 The American Kennel Club announced Tuesday that for the 18th year in a row, the Labrador Retriever is the most popular choice among purebred pooches in the country.
It's no different in my house, which is ruled by our two dogs, above: Disney, a black labrador mix, and Tinkerbell, a pure yellow lab.
AKC says more than twice as many labs were registered in the U.S. in 2008 as Yorkshire terriers — the No. 2 dog on the list. The Top 10 canines are German shepherd, golden retriever, beagle, boxer, dachshund, bulldog, poodle and shih tzu.
The Labrador Retriever was also top dog in the Philadelphia area, followed by the Yorkshire terrier, boxer, German shepherd, bulldog, rottweiler, golden retriever, poodle, pug and doberman pinscher.
The kennel club says the bulldog returned to the list as No. 10 last year after an absence of 70 years, and has since jumped two notches.
The kennel club turns 125 this year.