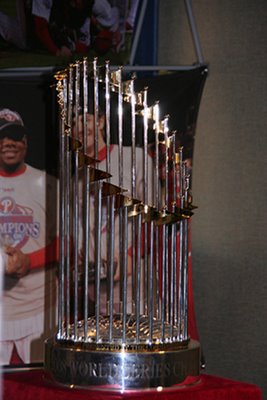 The Phillies announced last week that the World Series trophy will go on tour throughout the tri-state area.
On Saturday, the trophy will be on display at the Montgomery Mall in North Wales from 1 to 2:30 p.m.
On Thursday, Jan. 22, the trophy will be in Reading. The VF Outlet Center at 801 Hill Ave. will host the public viewing from 1 to 2:30 p.m. For more information, call 610-378-0408.
If you are lucky enough to hold tickets for Reading's sold-out "King of Baseballtown" Banquet and Fundraiser that night at the Reading Crowne Hotel, the trophy be on display there as well.