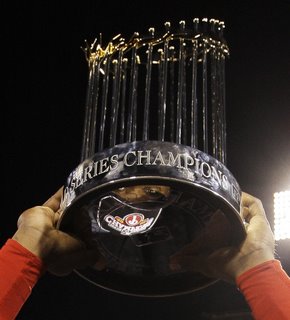 After a shorter-than-usual offseason, the World Champion Phillies -- I never get tired of saying that -- open the 2009 season tonight against the Atlanta Braves at Citizens Bank Park.
Last year, I picked the Phillies to finish third behind the Mets and Braves and finish with only 86 wins. I guess I was wrong.
This season, I expect this team to exude the confidence of a World Champion. Remember that last year, Jimmy Rollins had a subpar offensive year, Chase Utley was hurt for the last half of the season and Ryan Howard didn't get into an offensive groove until September.
Closer Brad Lidge won't go another whole season without blowing a save, but I wouldn't expect Brett Myers to get sent to the minors for 5 weeks, either. The Phillies pitching staff is a strength, and there's some depth in the farm system, too. The only thing that would keep this team out of the playoffs is Cole Hamels' bad elbow.
So here we go: I see 93 wins, and another dogfight with the Mets, with the Phils prevailing again for the NL East flag.
What happens in the postseason? Who knows? Who would have thought the Phillies would go 11-3 last year?
Here is what FoxSports.com's
Ken Rosenthal
sees the MLB season. I was pleasantly surprised.