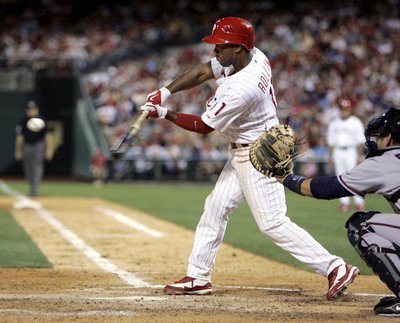 The next 10 days will tell a great deal about the fate of the 2008 Phillies.
Four home games against the Dodgers, two more against the division-leading Mets and then four games in Chicago against the Cubs are what lies ahead for the under-achieving squad.
Just last week, the Dodgers swept four games from the Phillies in Los Angeles, so you'd think the hometown team would like to extract a little revenge from the West Coasters.
As I write this, the Phillies trail the Mets by 2 1/2 games, so depending on the outcomes of this weekend's games, the Phils may need to win both games from the Mets just to stay alive in the pennant race.
And the Cubs only have the best record in the league as they vie for their first World Series title since 1908.
So the outlook for the next 10 games isn't promising, especially with the impotent bats of leadoff hitter Jimmy Rollins, shown above in an Associated Press photo, and cleanup hitter Ryan Howard. Rollins is just 3-for-33 since calling fans "frontrunners" on the recent West Coast trip. Howard has three hits in his last 35 at bats, with 18 strikeouts in that span.
Come Labor Day, either the Phillies are still in the race for a playoff spot, or fans can start chanting "E-A-G-L-E-S, Eagles!"