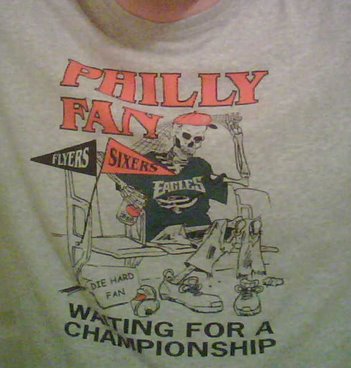 Spending a week in Walt Disney World, you see a wide variety of attire.
Little princesses dressed as Minnie Mouse, Cinderella, Snow White or Belle. Men, women, teens and kids wearing Mickey Mouse, Goofy, Donald Duck and Grumpy gear.
And then there are the t-shirts. T-shirts, t-shirts, t-shirts and more t-shirts.T-shirts of a favorite sports team or college. T-shirts promoting an event. T-shirts to tell who's in your party.
And many times, those T-shirts can be a conversation starter.
On the first night of our vacation, I was walking through the food court of our resort when I noticed the t-shirt of a teenage girl who was sitting at a table with her family. The t-shirt was from the first annual Spring-Ford girls basketball holiday tournament.
There couldn't be two Spring-Ford School Districts in the country, so I approached the table and asked the group if they were from the Pottstown area. Sure enough they were, and we spoke for a few minutes and talked about our vacations. A few days later our paths crossed again, and we spoke once more.
My new favorite t-shirt, "Waiting for a Championship (above)," was a conversation starter a few times.While waiting in line for the Test Track ride at Epcot, a woman noticed my shirt and struck up a conversation. I knew she and her family shared my pain since the woman and a few members of her party were wearing Eagles t-shirts.
A few days later I had the shirt on again (yes, it had been washed), this time at Disney's Hollywood Studios. We were in line to ride Toy Story Mania when a woman in front of us was admiring my shirt.
It turns out the woman and her husband were transplanted Philadelphians now living in West Palm Beach, Fla. She was a die-hard Eagles fan, he a die-hard Flyers fan. So the title drought extends to parts of Florida.
We had a nice chat with them while waiting to get on the ride. My wife asked how they liked living in Florida. They don't miss the snow, but talked as if they might be soon moving back to Philadelphia.
I passed other park visitors — most wearing Phillies caps and shirts or Eagles shirts — who acknowledged my shirt by either a nod, through eye contact or a chuckle. One day in the Magic Kingdom, I passed a guy wearing the same shirt, but in a different color.
It wasn't just sports shirts that ignited conversation. On another morning at Hollywood Studios, I wore a "Bar Hopping in Myrtle Beach" shirt which pictured several dining establishments on the back. While waiting in line to get a FastPass for Rock and Roller Coaster, a man behind me asked me how many of them I had been to. I replied, "not enough of them." He then told me he had a friend in his native West Virginia who bartender in Myrtle Beach each summer and made enough money to live on the rest of the year.
The there's the flip side. On the first day I wore my t-shirt lamenting the fact Philly fans haven't seen a sports title in 25 years, I kept passing a guy wearing a shirt proclaiming "We Are The Champions." On one half of the shirt was the NBA Championshiop trophy honoring the 2008 Boston Celtics. On the other half was the World Series trophy in honor of the 2007 Boston Red Sox.That was one guy I had no intention of talking to.