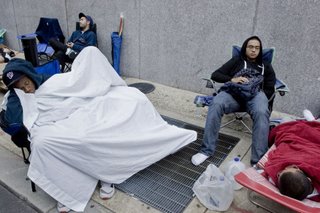 I've heard of people camping out hours or even days in advance of obtaining concert or playoff tickets and video games and systems. But sneakers?
Early Tuesday morning, a line of people - shown in an Associated Press photo at right - were outside a footwear store in Philadelphia to get their hands on a pair of Nike Air Force 1 sneakers called Air Questo. The footwear was designed by Ahmir "?uestlove" Thompson, the drummer for The Roots, a Grammy-winning hip-hop band.
According to an Associated Press story, the sneakers from Nike's 1World collection are highly sought-after by collectors who call themselves sneakerheads
The limited-edition sneakers - apparently there are only 300 for sale - are red, green and gold and sell for $225. That's right, $225.
It could be my frugal Pennsylvania Dutch ways, but I look for deals on sneakers so I can avoid paying $50, let alone $225.