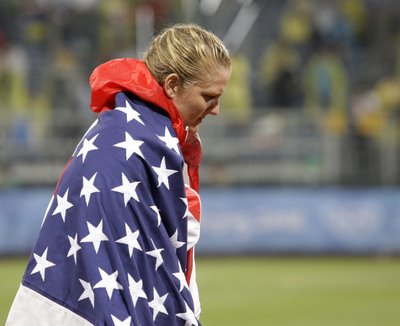 Thursday was a rough day for the U.S. Olympic team.
The favored women's softball team -- winners of 22 straight games and every gold medal since the sport debuted in 1996 -- lost to Japan, 3-1, in the gold medal game. Stacy Nuveman shows her disappointed in the Associated Press photo above.

Twice, the Americans had the bases loaded with one out, but failed to score. (I wonder if they got hitting tips from the Phillies.)
Ironically, the International Olympic Committee is eliminating the sport for at least the 2012 Games in London, in part because of the dominance of the Americans.
In women's water polo, the Americans were ranked No. 1 and expected to win the gold medal after taking silver in the past two Olympics. Instead, they settled for silver again after losing the gold medal to the Netherlands, 9-8, on a goal with 26 seconds to play.
On the track, the U.S. 4x100 relay teams failed to make the final because both the men's and women's teams dropped the baton. That means the Americans went 0-for-6 in the sprint events.
There was some good news. The women's soccer team beat Brazil, 1-0, in extra time to win the gold medal for the third time in the last 4 Olympics. Boyertown graduate Nicole Bernhardt is a backup goalie on the team. You can read all about her experience at her blog,
"The Goal Box."
And the beach volleyball team of Kerri Walsh and Misty May-Treanor won their second straight gold medal. The win was the 108th consecutive one for the team. For those who don't know, May-Treanor's husband, Matt, is a catcher for the Florida Marlins.
Also, the American men swept the 400-meter run