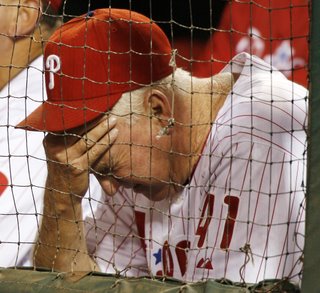 Ask anyone I know and they'll say that I rarely show confidence in the success of my favorite sports teams. They say I'm a pessimist; I tell them I'm a realist.
Which is what makes a blog post I made earlier this week regarding the Phillies' magic number and a trip to the post-season so surprising. I actually showed confidence that one of my teams would succeed.
After all, the Phillies were ahead by 2 1/2 games with just 5 games to play all at home. I thought nothing could go wrong.
Can I take it all back?
One night after Cole Hamels got his usual run support in a 3-2 loss to the Braves, manager Charlie Manuel, above, saw Brett Myers and the bullpen stink it up in a 10-4 loss Wednesday. Fortunately, the Mets blew a game Wednesday in a 9-6, 10-inning loss to the Cubs. The magic number to clinch the division or the wild card spot is 3.
So now I'm anxious, and once again fearing the worst, that the Phillies will end the year on a five-game losing streak and miss the playoffs.
In an ideal situation, the Phils will win the division and Milwaukee will take the wild card, leaving the hated Mets out in the cold. But now, as long as the Philies get in, I don't care which team joins them.