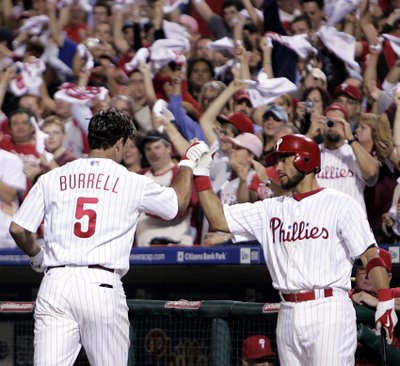 Thanks to their recent streak of 10 wins in 11 games and a 3-game losing streak by the hated New York Mets, the Phillies enter tonight's game against Atlanta with a 2 1/2-game lead in the National League East with just 5 games to play. (The Mets have 6 games remaining.)
The Phillies' magic number (a combination of Phils' wins and Mets' losses) to win the division is 4.
But the magic number to clinch a playoff spot is just 3, as the Phillies are 3 1/2 games better than Milwaukee, who trail the Mets in the hunt for the National League Wild Card. (Got all that?)
Thanks to contributions from nearly everyone on the now 33-man roster, the Phils find themselves on the verge of a playoff spot. So if things go their way, a post-season berth could be sewn up Wednesday night.