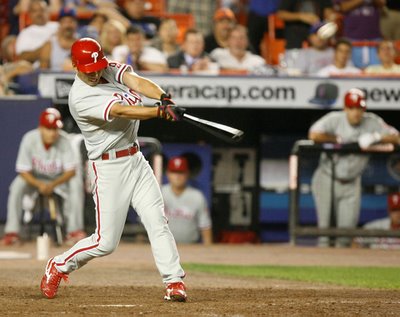 So, who knew that Phillies reserve outfielder So Toguchi would wait until the end of July to finally make a contribution to the first-place team?
Toguchi, an off-season acquisition expected to add a veteran presence to the bench, has been a bust. He botched a few plays earlier in the season as a defensive replacement in left field and has lost that role to backup infielder Eric Bruntlett.
At the plate, Toguchi's woes were even worse. He was the top pinch-hitter in the National League last year, yet was 0-for-16 in that role with the Phillies. Until Tuesday night.
I had little confidence when Toguchi was brought in to pinch-hit with the bases loaded, no outs and the Phillies trailing the Mets, 5-3, in the top of the ninth. A loss in this game, and the Phils would fall a game behind the Mets in the division standings.
I don't know who was shocked more -- Phillies' fans, or Mets' right fielder Endy Chavez -- when Toguchi, above in an Associated Press photo, sent a ball over Chavez' head for a game-tying double. Jimmy Rollins followed with a two-run double and the Phillies went on to an 8-6 victory.
Toguchi's hit must have felt oh So good to him -- and his teammates.