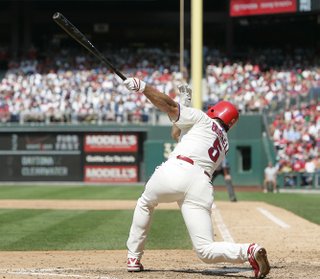 As the Phillies get ready to open the second half, they sit tied for first place in the National League East with the New York Mets, who just weeks ago were 7 games behind the Phillies, but a current 10-game winning streak has brought them to the top of the division.
The Phillies sit in their current position despite the following negatives:
* Reigning MVP Jimmy Rollins missed a month of the season with an ankle injury, and has been inconsistent at best since his return;
* Cleanup hitter Ryan Hitter spent most of the season at or below the .200 mark and is on pace for more than 200 strikeouts. However, a hot last 30 days has him leading the league in home runs and RBI;
* Opening Day starter Brett Myers struggled for most of the first half, and has spent July in the minor leagues;
* Starting catcher Carlos Ruiz would hit just above .200 with only 20 RBI at the break.
But thanks to a stellar bullpen, good starting pitching from Cole Hamels, Jamie Moyer and Kyle Kendrick and the offensive heroics of Chase Utley and Pat Burrell, above in an Associated Press photo, the Phillies have put themselves in line for the postseason.
In mid-June, the team was 13 games above .500 and seemingly poised to take control of the division. Instead, it went into a tailspin and is in a fight with the Mets and Marlins at the top of the division.
The past few Phillies have shown they are a second-half team, and the players expect the same over the next 2 1/2 months.
But I don't know about this team. Just when you think they're playing good and will go on a roll, they lose 6 out of 7 games. They don't seem to have a long winning streak -- like the Mets are on now -- in them.
At the start of the season, I predicted 86 wins. I'll change that to 90 wins, but I don't think it will be enough to get to the postseason. The Mets will win the division, and the wild card will come out of the National League Central.
I hope I'm wrong.