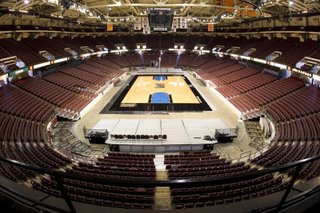 This won't be quite as painful as watching Veterans Stadium implode, but in 2009, The Wachovia Spectrum, the former home to the 76ers and Flyers, will also become a pile of rubble.
Comcast-Spectacor announced Tuesday that the building, shown at right in an Associated Press photo, will close and be demolished next year.
The arena that housed the Broad Street Bullies when they claimed Stanley Cups in 1974 and 1975 and the Sixers when they won the city's last championship in 1983 will be torn down to make room for Philly Live!, a complex of retail space, bars, restaurants and a hotel.
Comcast-Spectacor was started by Ed Snider — founder of the Flyers, chairman of the 76ers and co-founder of what is now Comcast's local sports channel.
"This has been one of the hardest decisions I've ever had to make," said Snider, Comcast-Spectacor's chairman. "The Spectrum is my baby. It's one of the greatest things that has ever happened to me."
Three games I saw at The Spectrum (there were no naming rights on the building then) still stand out today.
At the top of the list is the 1992 NCAA men's basketball East Regional final between Duke and Kentucky, what many consider the greatest college basketball game ever. That night, I was in the fourth row behind the basket where Christian Laettner's buzzer-beating jump shot gave the Blue Devils a 104-103 overtime win.
Another game I won't forget is Game 6 of the 1980 NBA championship series when the Sixers hosted the Los Angeles Lakers. With center Kareem Abdul-Jabbar back in L.A. with a sprained ankle, rookie point guard Magic Johnson moved to center and scored 42 points to lead the Lakers to a win and the league title.
The only Flyers game I saw at The Spectrum was in February 1979. The significance of that game was that goalie Bernie Parent suffered a career-ending eye injury when an errant stick went through the right eye hole in his mask and caused permanent damage to his vision.
My memories of Julius Erving, Charles Barkley, college basketball, and yes, even a pro wrestling event occurred mostly at The Spectrum, another icon of my younger days that is about to crumble. It's not a sign that I'm getting old; it's just that everything I grew up with is.