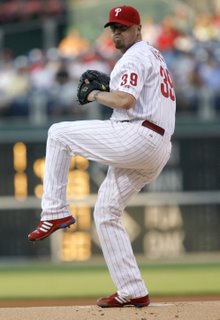 The Phillies sent scuffling right-hander Brett Myers to Triple-A Lehigh Valley on Tuesday, hoping the Opening Day starter can right himself and help the Phillies in the second half of the season.
Myers is just 3-9 this season in 17 starts, with an awful 5.94 earned run average. His first start for the Iron Pigs will be tonight.
The Phillies have stayed in first place this season despite Myers' struggles, but with few other options, he needs to get straightened if the Phillies are to stay in the hunt for the National League East title.
Here's one bold prediction on Myers' future: ESPN "Baseball Tonight" analyst Chris Singleton said Tuesday night that Myers will return and have the lowest earned run average in the National League in the second half of the season.
If that's the case, the Phillies will be in the post-season.