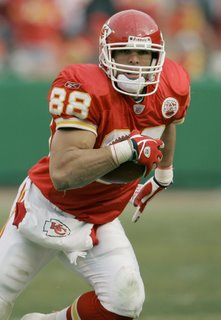 Here is one sports star you can actually call a hero.
Kansas City Chiefs All-Pro tight end Tony Gonzalez, shown at right, recently made a life-saving play when he kept a man from choking to death in a California restaurant.
"Tony saved my life. There's no doubt," Ken Hunter, a shipping company manager, told The Associated Press in a phone interview from Huntington Beach, Calif.
"Tony came up behind me and gave me the Heimlich maneuver. Thank God he was there."
According to the Associated Press story, Gonzalez, a nine-time Pro Bowl selection who has set numerous NFL records, was having dinner with family at a restaurant in Huntington Beach. Hunter, 45, was dining with his girlfriend at the next table when suddenly a piece of meat stuck in his throat.
"I tried to take a drink of water, but I couldn't swallow," Hunter told The AP. "Then I couldn't breathe. That's a terrible feeling. I couldn't breathe. Then I guess I started to panic."
Gonzalez, sitting with his back to Hunter's table, looked around when he heard Hunter's companion yelling.
"She was screaming, 'He can't breathe, he can't breathe,'" Gonzalez said by phone from California, where he lives in the offseason. "The whole restaurant was quiet. Nobody was doing anything.
"Then I saw he was turning blue. Everybody in the restaurant was just kind of sitting there wide-eyed."
The 6-foot-5 Gonzalez, about a foot taller than Hunter, jumped out of his chair and came up behind the stricken man and began to perform the Heimlich maneuver.
"After just a few seconds, the piece of meat popped out," Hunter said. "I could breathe again. It's a good thing Tony is so tall because I had stood up — I think."
Hunter went into the restroom to clean up and didn't realize he'd been saved by a famous athlete until he came out.
"I'm a big NFL fan and I recognized him right away. I was still kind of dazed when I went over and thanked him and said, 'What can I do for you?' I guess I said it about 1,000 times."
One of the most productive receivers in pro football history, Gonzalez holds the NFL record for tight ends with 820 career receptions and 102 catches in a season. He needs only 79 more yards receiving to become the career leader among tight ends.
He has never received any formal instruction in the Heimlich maneuver.
"I had seen it done, so I just did it," Gonzalez said. "When you find yourself in those situations where you have to take action in a crucial situation, you just do it. I got the same feeling I get when I go on a hospital visit.'"
Hunter is a lifelong fan of the San Diego Chargers, one of Kansas City's key rivals in the AFC West, and plans to be at the game when the Chiefs visit the Chargers on Nov. 9.
"I'm Tony's No. 1 fan now," he said.