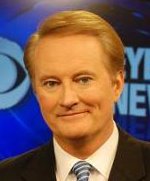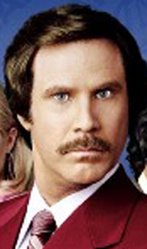 In Will Ferrell's hilarious 2004 picture "Anchorman: The Legend of Ron Burgundy," Ferrell's lead character -- the news anchorman (above left) of a television station in San Diego in the 1970s -- tries to sabotage the career of Veronica Corningstone, a younger reporter who became the newsroom's first female anchorman.
The movie was fictional, but at the time the movie was released, a real-life newsroom battle of the sexes between co-anchors Alycia Lane and Larry Mendte (above right) was brewing at CBS3 in Philadelphia. The battle led to both of them being out of a job.
On Monday, Mendte was charged with hacking into Lane's e-mail hundreds of times for more than two years, as leaked information about her personal life helped lead to her downfall.
In an Associated Press story, federal prosecutors contend that Mendte gained access to Alycia Lane's accounts from home and at work — about 537 times between January and May alone. Lane's attorney said the motive was jealousy, but authorities were silent on both Mendte's motive and his method.
"People expect that e-mail in a password-protected personal e-mail account is private," acting U.S. Attorney Laurie Magid said. "The mere accessing and reading of privileged information is criminal. This case, however, went well beyond just reading someone's e-mail."
Lane was fired by the station in January after several embarrassing off-air incidents, including an altercation with a New York City police officer late last year.
Mendte, who co-anchored the news with Lane for more than four years, is charged with a felony count of intentionally accessing a protected computer without authorization. He was fired last month after FBI agents searched his home and seized his computer.
I wonder if Mendte and Lane filled the CBS3 newsroom with exchanges like this one from "Anchorman," courtesy of IMdb.com:
Veronica Corningstone
: Mr. Burgundy, I am a professional and I would like to do my job.
Ron Burgundy
: Big deal. I am very professional.
Veronica Corningstone
: Mr. Burgundy, you are acting like a baby.
Ron Burgundy
: I'm not a baby, I'm a MAN, I am an ANCHORMAN.
Veronica Corningstone
: You are not a man. You are a big fat joke.
Ron Burgundy
: I'm a man who discovered the wheel and built the Eiffel Tower out of metal and brawn. That's what kind of man I am. You're just a woman with a small brain. With a brain a third the size of us. It's science.