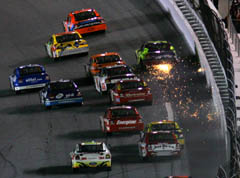 Watching the final laps of the Daytona 500 on Sunday, the scene seemed vaguely familiar.
Vehicles driving at excessive speeds and swerving in and out of traffic. Cars touching bumpers every now and then and a few of them spinning out of control.
What did it remind me of? A typical commute on Route 422!
Whether headed west from King of Prussia or east from Reading, driving Route 422 can be a nightmare for anyone. While the above Associated Press photo from Sunday's NASCAR race might be a bit of an exaggeration, there are a lot of reckless drivers on the highway every day.
One night last week I experienced something on Route 422 that I had never seen. Driving west through Amity, a car in front of me did a U-turn and began to head east -- in the westbound lanes!! I looked in my rear-view mirror and there was traffic behind me in both lanes. The last thing I saw was the driver who made this ill-advised maneuver darting into the shoulder to avoid a head-on collision.
I just wonder how Ryan Newman, Jimmie Johnson or Tony Stewart would have handled that.