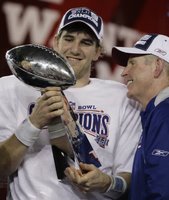 People kept asking me over the weekend who I was rooting for in Sunday's Super Bowl.

Rooting for the Patriots wasn't much of an option. Since they had won 3 Super Bowls in 6 years, and the Red Sox had won 2 World Series in 4 years, the people of New England have had enough glory this decade. So I didn't want them to win. Plus, their arrogance is tough to take. But when you're as successful as they have been, you have every reason to be arrogant.

The other option would be rooting for the underdog -- which I have no problems doing. But since this time the underdog was the Giants, a bitter division rival of the Eagles, cheering them on was definitely out of the question.

So as the game progressed and the Patriots held a slim 7-3 lead in the fourth quarter, I prepared myself for the worst -- that the Giants would be Super Bowl champions.

Though the Pats took a 14-10 lead with less than 3 minutes to go, somehow I knew the Giants would come back down the field and score a game-winning touchdown. So on the final drive when Eli Manning, above in an Associated Press photo with head coach Tom Coughlin holding the Vince Lombardi Trophy, escaped a sure sack and Giants wide receiver David Tyree made a great catch for a 30-yard gain, I just sat back and waited for the inevitable.

Sure enough, the Giants took the lead with 35 seconds to go. At that point, I knew that even a team as great as the Patriots were this season wasn't going to get into field goal range to try to tie the game.

The scary thing is, I felt angry that the Giants won. Very angry. Why? Probably because the last time I could celebrate a sports championship, I was still in college.

A day later, I sit here and wonder to whom was I directing my anger? The fact a team I hate won the Super Bowl, or that the teams I root for fail me time and time again?