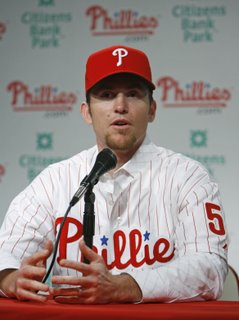 New Phillies' closer Brad Lidge had arthroscopic surgery Monday on his right knee. Lidge, who had off-season surgery on the knee, re-injured it Saturday during batting practice on his first pitch of spring training.

Lidge, shown at right in an Associated Press photo, is expected to miss 3 to 6 weeks, which means he could be back for the season opener on March 31 against the Washington Nationals.

Last year, Tom Gordon and Brett Myers both missed significant time in their role as closer. Lidge was brought in to help stabilize the bullpen and improve the starting pitching with Myers returning to the rotation.

A stable bullpen is essential if the Phillies hope to repeat as National League East champions and advance to the World Series. Hopefully Lidge's injury is not a sign of things to come for the 2008 season.