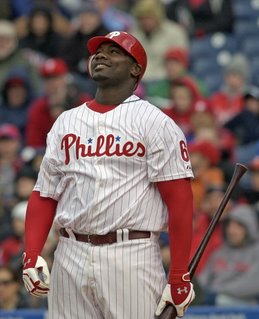 For the second straight year, the Phillies and Ryan Howard are locked in a contract dispute with an arbitration hearing scheduled for 2 weeks from today.
Last year, the 2006 Most Valuable Player, at right in an Associated Press photo, avoided arbitration when he agreed to a $900,000, one-year contract.
This time, Howard, who blasted 47 home runs last year, is asking for $10 million. The Phillies are offering Howard "only" $7 million.
The Phillies need to step up and make up the difference. Thanks to their division title last year and high hopes for this season, season ticket sales have increased. Citizens Bank Park will be full from May to September, putting more revenue into the owners' pockets, and Howard is one of the reasons why the fans turn out.
He may not be the face of the franchise as Jimmy Rollins and Chase Utley are, but Howard's an integral part of any success this team hopes to have.
Management can't continue to have salary disputes with their slugger. Either give him what he's asking for before the arbitration hearing, or come to an agreement on a long-term deal to avoid this scenario every February.