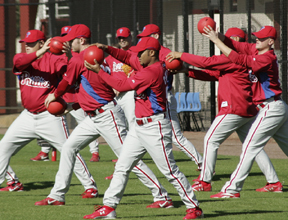 Yes, the calendar says it's only Feb. 14. Yes, we just saw a storm drop a few inches of snow, ice and rain on the area. But today is the first day of spring.

Phillies' pitchers and catchers reported to Clearwater, Fla., this morning for the start of spring training -- the unofficial start of spring.

Watching the television reports from Phillies' camp in sunny Florida and seeing photos of the team working out -- like the one from the Associated Press, above -- gets me thinking about spring and the excitement of the upcoming baseball season.

So while we may get a few more snowstorms and several cold and cloudy days in dreary southeastern Pennsylvania, it's already spring in my mind.