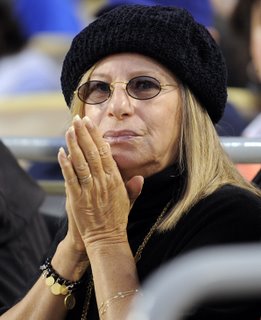 One of the great sidebars to the Phillies winning the National League pennant was to see the dour faces on all of the Hollywood liberals who attended the games.
Penny Marshall, Laverne from "Laverne and Shirley," had seats next to the Dodgers dugout with her brother, producer/director Garry Marshall. Sitting directly behind home plate was Mary Hart of "Entertainment Tonight."
During one game, Fox kept showing Barbara Streisand, above in an Associated Press photo, in her seats.
And though he wasn't shown, Rob Reiner -- Mike Stivic, aka Meathead, from "All in the Family -- is a Dodgers fan as well.
Now if only they could all see one more defeat on Nov. 4....