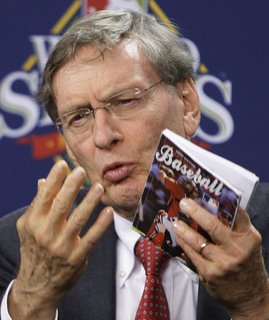 Too late, Bud.
Major League Baseball and Commissioner Bud Selig, at right, blew it Monday night when Game 5 of the World Series was suspended before the bottom of the 6th inning because of bad weather. I had no problem with the decision; the timing of it is what was wrong.
Conditions were just as bad in the fifth inning when Phillies shortstop Jimmy Rollins dropped a wind-blown pop-up. In his news conference later, Selig said the game was stopped when it was to save its intergrity. The intergrity of the game was already lost by the time the game was called.

It was obvious by the timing that Major League Baseball wanted the Rays to tie the game before stopping play. I agree with Comcast SportsNet analyst and former Phillies hurler Mitch Williams that the Rays had an unfair advantage by being able to bat in the 6th inning as the Phillies had to be in the field during the awful conditions. When play resumes Wednesday night (weather permitting, as Tuesday's planned start has been pushed back), the Rays will be playing on a dry field and their pitcher throwing off of a dry mound.
You call that integrity. On this night, it was not proud to be a Bud.