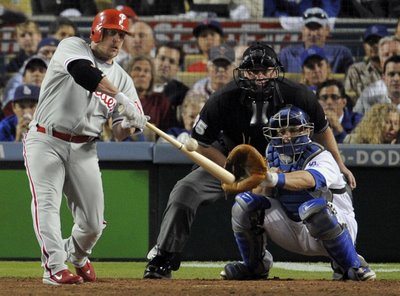 By the time the eighth inning rolled around in Monday night's Phillies-Dodgers NLCS Game 4, I had pretty much convinced myself that the series would be tied.
It was a mood-altering game until that point: Phils score 2 runs in the first, and the Dodgers get 1 back. Then the Dodgers take the lead, and the Phillies tie it, but leave the go-ahead run at third base. Then the Dodgers get two more runs for a 5-3 lead after seven innings.
So I was just laying in bed, biding my time until the final out when I could go to sleep. And then it happened.
First, Shane Victorino -- the man Dodgers fans love to hate -- tied the game with a two-run homer. Then an out and a base-hit later, Matt Stairs launched another homer into the right-field bleachers, shown in the photo above, to give the Phillies an improbable 7-5 win, a 3-1 series lead and one victory away from the World Series.
Of course, I was then too excited to sleep, so I watched "Post-Game Live" on Comcast SportsNet, then "Baseball Tonight" on ESPN for their expert analyiss, finally able to turn in at 1:30 this morning.
But it was worth it, capping off a nice two-day stretch of fandom. Why? The Eagles won a game they needed to on Sunday, but it wasn't just the 40-26 comeback win over the 49ers, but everything that came along with it: division rivals Redskins and Cowboys losing Sunday and the Giants losing Monday, all to teams they shouldn't be losing.
Those outcomes kept the Eagles trailing the Giants by 2 games and the Cowboys and Redskins by 1 in the NFC East Division.
The Eagles have a bye this week, and it will probably benefit them since all the talk will be about the Phillies as they look to wrap up a spot in the World Series, then go for the city's first championship in more than 25 years.
GO PHILLIES!!