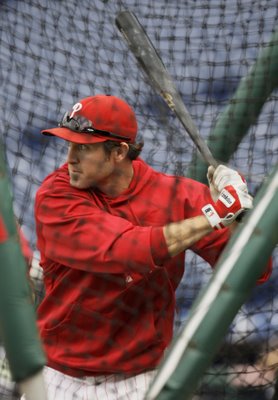 I finally got one right when I picked the Phillies to beat the Brewers in 4 games in their National League Division Series. So I might as well try it again as they meet the Los Angeles Dodgers in the league Championship Series.
The Dodgers had the fewest wins among the playoff teams, but since Sept. 1, they've been among the hottest squads. The acquisition of Manny Ramirez on July 31 stabilized a young lineup and the Dodgers had the National League's best pitching with a 3.68 earned run average.
The Phillies pitching isn't too shabby, either, as the staff posted a 3.88 ERA, good for fourth best in the league; the bullpen was the best in the league, led by closer Brad Lidge, who saved 41 games in 41 chances.
Obviously, both teams have very good pitching. For the Phillies to win, they need Chase Utley, shown above during batting practice, and Ryan Howard to hit. Against Milwaukee, Utley hit just .133, including a two-run double in Game 1, and Howard just .182 with 1 RBI.
It's very simple: if Utley and Howard hit, the Phillies win. I think they will. It won't be easy, but I see the Phillies winning in 6 games in front of a raucous Citizens Bank Park crowd. Or in Game 7 in front of a very nervous home crowd.
GO PHILLIES!!!