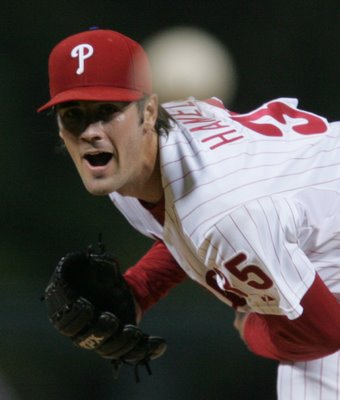 Phillies left-hander Cole Hamels was upset with the team in spring training after they renewed his contract for $500,000 instead of signing him to a long-term deal. He felt disrespected.
Hamels had just 51 starts and only 315 inning pitched in his major-league career entering the season, so it's hard to understand why he was so upset.
So this year the 24-year-old went out and proved he's worth a lot more money. His 227 innings were second in the National League. He was sixth in the league with 196 strikeouts and his 3.09 earned run average tied him for fifth. Hamels only won 14 games, but that's because of a lack of run support from his teammates.
And he's been stellar in this postseason, too, winning both of his starts and striking out 17 in 15 innings while allowing just 2 runs.
But if Hamels wants to command a big contract, tonight is his night to show it.
Hamels, in an Associated Press photo above, will take the mound in Los Angeles when the Phillies meet the Dodgers in the fifth game of the National League Championship Series. A win sends the Phillies to the World Series for the first time in 15 years; a loss, and Game 6 is at Citizens Bank Park on Friday night.
So if Hamels wants to establish himself as a money pitcher and deserving of a big new contract from the Phillies, he needs to win tonight.
GO PHILLIES!!!