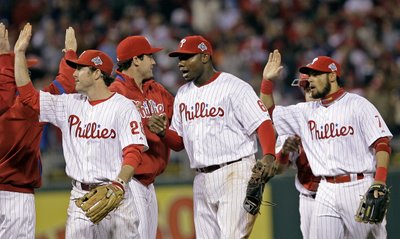 Monday night I was confident the Phillies, with ace Cole Hamels on the mound, would bring home the World Series title. That's unusual, since I usually have negative thoughts running through me head in regards to my sports teams.
But I was ready to celebrate when the game ended, with my champagne chilled and ready to be drank. And I was set for a parade, whether I'd be there in person, or relegated to watching it on TV.
Then the rain and wind came, and the game was suspended. Now? Well, let's just say I'm one of those who feel there is a conspiracy between Major League Baseball and the baseball gods to keep the Phillies from winning.
Right now I can see a nightmare scenario unfolding that leaves the Phillies without a title. ESPN.com's
Jayson Stark
knows the emotions of Philadelphia sports fans and hits it on the head in his most recent column.
I have a lot of nervous energy right now, and the resumption of Game 5 is more than 4 hours away. But I am trying to think positive about tonight: how the Phils have 12 outs to the Rays 9; how the Rays haven't touched the Phillies bullpen; and how resilient this Phillies have been this season.
So let's hope the Phillies can end the World Series tonight and start the celebration after a 25-year drought.
GO PHILLIES!!!